"I want her to make me a dewy dumpling!" said a production assistant, rather breathily, as we watched makeup artist Nam Vo literally glow in front of the camera.
If the term "dumpling skin" is unknown to you, prepare to be initiated. It's a loving phrase Vo has created and owned on her social media accounts, hashtagging pics and peppering it into videos. The official definition? "Soft, plump, moist, and delicious"—a lot like the look of actual dumplings.
"Who wouldn't want dumpling skin?" she asked. "It's the most important. As long as your skin's flawless you don't need much makeup at all. It's always the foundation and complexion first."
Vo is so (so!) good at the glowing, lit-from-within look that it's impossible to separate it from her social presence or her reputation as a pro working with top-name talent. In an attempt to capture some of that magic, we asked her to share her own go-to looks for day and night using products found at Bloomingdale's.
For day, the focus is on gorgeous skin and an unexpected lip.
"Beautiful makeups starts with beautiful skin," Vo offered up immediately. While highlighter, blush, and lip are all aspects of a typical look she'd do for day, there's no denying that she spends just as much time on prepping her skin before a lick of makeup goes on.
Moisturizer
"I've used this SK-II product for years—it's like a cocktail of vitamins for the skin. I tap it in with my fingers, and it works like a plumping serum. It's really important to use an extra-hydrating eye cream too, because you can have a great concealer, but if you eyes are dry it won't fly.
Highlighter & Lip
"Powder is the most pigmented highlighter option. I start at the highs of the cheekbone and move out to create a C shape around my face.
"For a cool lip look, this Tom Ford lacquer is like a peachy gold foil. I use the wand first to rim the lips, then blend in the middle. That way you get a clean, precise line that just needs to be layered on top of."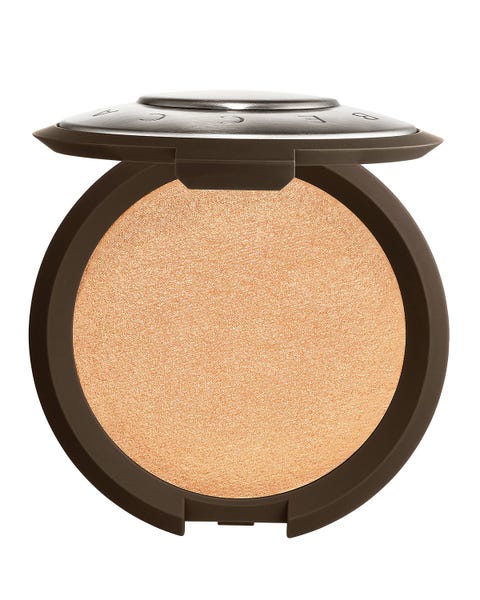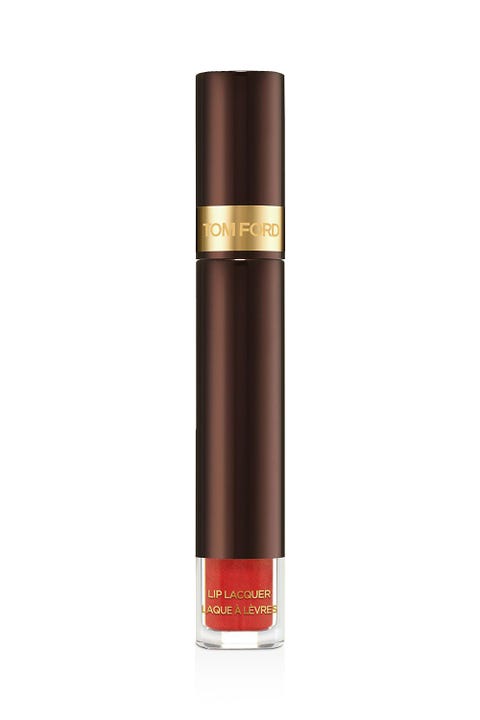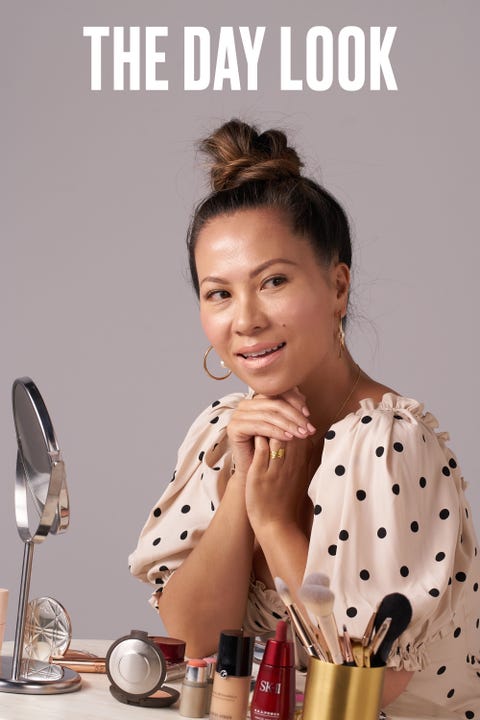 For night, bold eyes complement her signature glowing skin.
Vo doesn't believe in rules. "If you want to wear glitter to a picnic, you can," she said. "It just has to be subtle enough." An evening event could see her makeup going in a few different directions, but the combo she turns to most frequently is a statement eye with, of course, supernaturally lovely skin.
Moisturizer, Foundation, & Concealer
"Charlotte Tilbury's famous Magic Cream works as a moisturizer and a pseudo primer because it makes your makeup perform better and leaves a subtle, light pearly glaze on the skin. I do my foundation the same way I do for day, and then use YSL's Touche Eclat.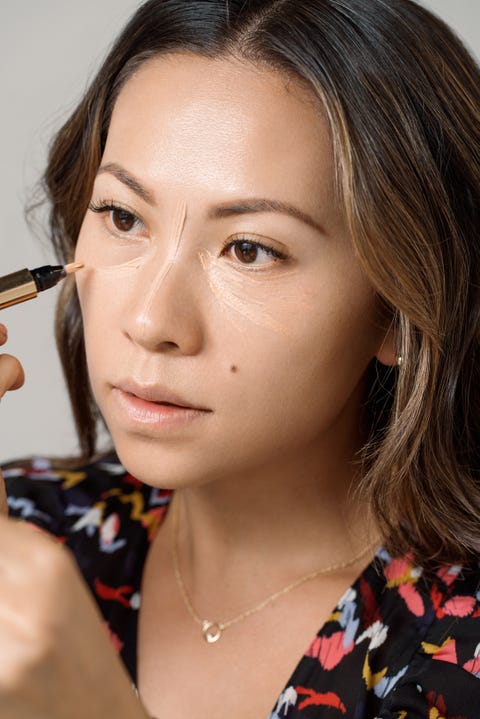 A hybrid concealer-highlighter works in multiple spots.
"It's the undereye's best friend. If you want coverage, use a true concealer—this one is more for brightening. It's like a spotlight on the face, and you can use it anywhere you want to pop and highlight."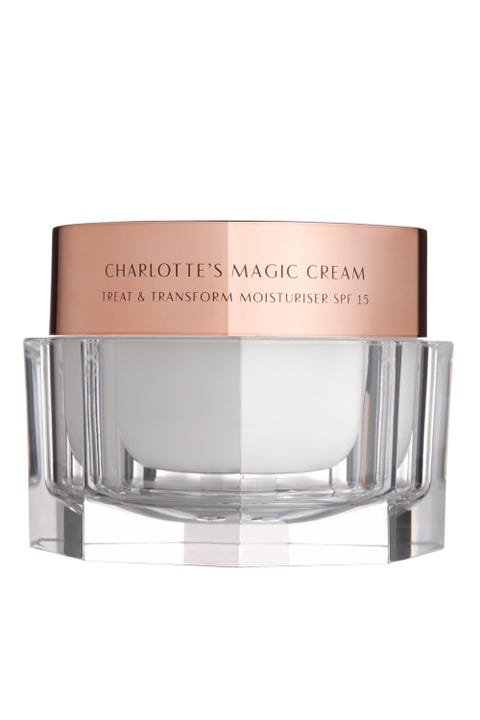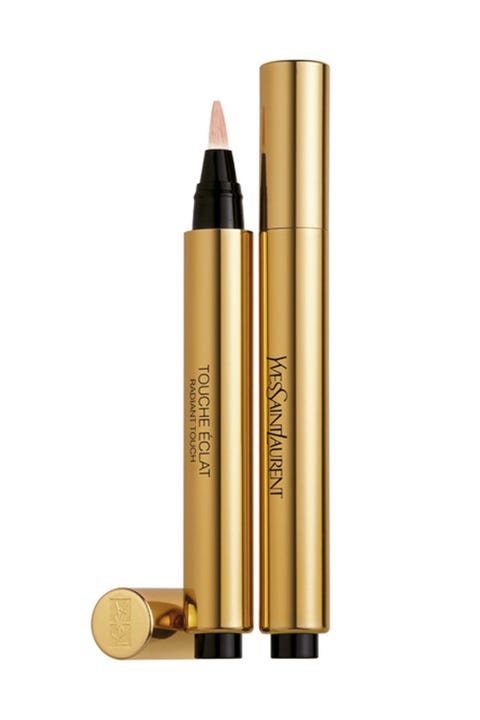 Eyes
"I go more dramatic with my eyeliner at night [with] an ink-jet black. Liquid eyeliner makes people nervous, but instead of trying to do one, long artistic stroke, just connect little dashes.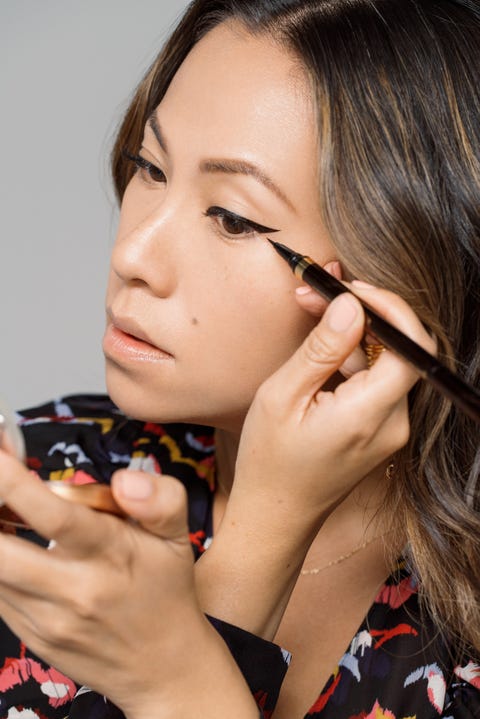 Keep calm and use liquid liner.
"Toward the end is where the drama happens. I flick it up and then connect it back to the line. On the bottom lash line I want something softer, so I use a chocolate-y pencil and smudge it. It doesn't have to be this perfect, precise line.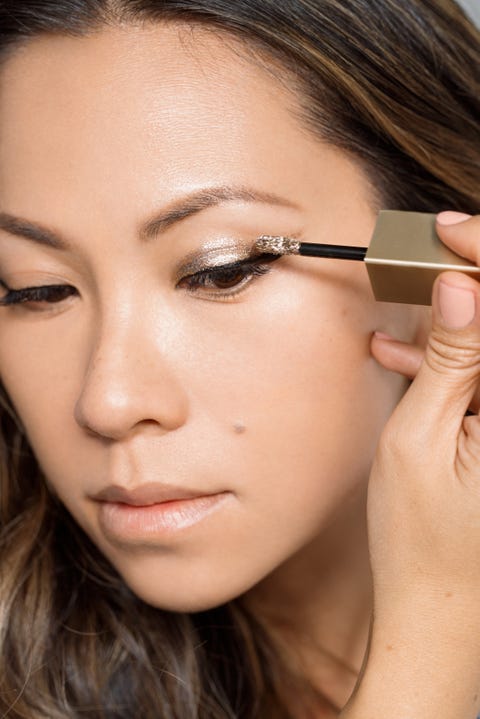 Break out the sparkles for PM.
Contour & Highlight
"A good sculpt-and-highlight duo is about creating shadow in the places you want. Think of burnt toast: I want the middle of my face to be brighter than the perimeter. You sculpt and chisel in all the areas that have natural contour, like cheekbones and jaw. It's hollowing, shadowing, and sharpening everything so you don't look like a big dumpling.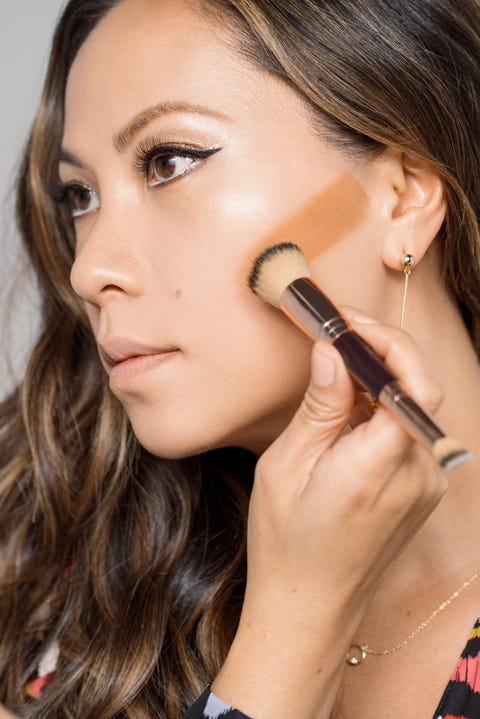 Contour with a synthetic brush.
"I apply the darker side on the very high point of the cheekbone, the top of my forehead, and a little bit on the jawbone. Then, blend it. Everyone should invest in a synthetic contour brush. Unlike the highlighter I use for day, this one makes the skin almost look wet. I place just on the highs of the cheekbones."