There's a reason the struggle bun prevails: Styling your hair is crazy time-consuming. And if you have textured hair, it's even more of a commitment. Blowout-like results involve a minimum of four steps including washing, drying, brushing, and thenusing a flatiron. Cut down on your routine with these brushes that quickly straighten (and in some cases, dry) your hair while simultaneously fighting tangles, ahead.
For the Blow Dry Bar Obsessive
Drybar The Brush Crush Heated Straightening Brushsephora.com$145.00
If your addiction to weekly blowouts eats away at your paycheck, it's time to consider Drybar's new straightening brush. It gives you shiny, fresh-from-the-salon hair by delivering flatiron-levels of heat in a paddle brush. It also shuts off automatically after 60 minutes so you don't need to worry about your home                                                                               burning down if you forget about it after                                                                           walking out the door (been there).
For a More Natural Look
Dafni Hair Straightening Ceramic Brushdermstore.com$99.99
If you're not going for that early 2000s stick-straight flatironed look, this brush achieves a more natural-looking, smooth finish. Run it slowly throughout your strands for best results.
The One Amazon Reviewers Swear By
MiroPure Enhanced Hair Straightener Brushamazon.com$44.99
With 2,093 reviews (and 75 percent of them 5 stars), this brush from MiroPure impresses users with how powerfully it straightens even the tightest and coiliest of natural curls. The tool has 16 heat settings so it can work for multiple hair types. It also comes with a heat-resistant glove so you don't burn yourself.
For Shiny, Shiny Results
Amika Polished Perfection Straightening Brushsephora.com$120.00
Amika's thermal straightening brush is unique because it uses double negative ion technology, which leaves hair frizz-free and super shiny. It also has ceramic bristles which evenly distributes heat, so hair doesn't end up looking fried flat.
For When Your Hair Is Wet
Wigo Straight & Smooth Ceramic Straightening Brushulta.com$18.99
If you're starting with freshly washed hair, reach for a heat-free brush that instead works with a hair dryer you already have. This unique hinged shape and ceramic base allow you to straighten hair as you dry it, wasting no time.
For the Styling Newbie
Foxybae Straightening Brushurbanoutfitters.com$80.00
Foxybae's straightening brush uses negative ion therapy to keep strands conditioned even with heat applied. Its shape is also most familiar to a regular brush, so even a styling amateur could nail it.
For Cutting Down On Heat Damage
Lescolton One Step Hair Dryer & Styler Hot Air Paddle Brushamazon.com$36.99
Another Amazon favorite, this unique brush doubles as a hair dryer that pushes hot air through the paddle so you can style and dry at the same time. Since it relies on air over extreme heat, it's also less damaging.

For a Quickie
InStyler Straight Up Ceramic Straightening Brushulta.com$59.99
If you're super strapped for time, this brush from InStyler is a promising solution—it claims to straighten hair in half the time it takes to do it with a flatiron. Plus, the bristles are made of ceramic plates so you'll need less passes.
The Affordable Option
Revlon Salon One Step XL Straightening Heated Hair Brushulta.com$49.99
If you're not ready to invest in yet another hair tool promising miracles, quell your skepticism with an affordable option from Revlon. What makes this brush great is how much surface area the paddle covers, ensuring you're straightening more hair at once and spending less time getting ready.
The Best for Wavy Hair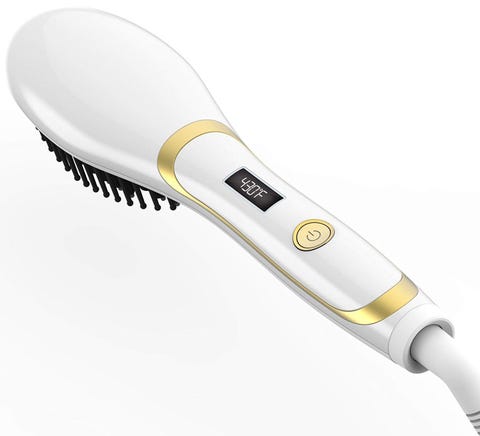 Magictec Hair Straightener Brush amazon.com $39.99
This wallet-friendly straightening brush had one Amazon reviewer impressed at how quickly it smoothed out her naturally wavy hair—15 minutes, to be exact. It's easy to use and low-budget enough to bring along on travels worry-free.